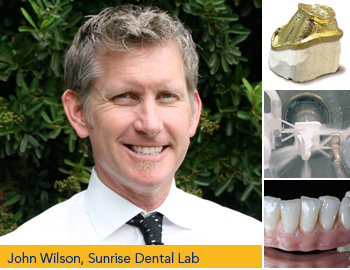 ABOUT OUR LAB
Over the last 25 years the dental technology trade has certainly evolved. Exciting new products have come to market, as well as the tools we use to create these artistic restorations.
With all the changes we have witnessed, creating life-like restorations still relies on a dedicated and talented team of people willing to communicate effectively with each other. This is what we call the "team approach to dentistry."
Understanding our clients' desires is often more involved than just a 2 or 3 word request on a laboratory prescription. Sunrise Dental Laboratory tailors each restoration to our clients' specifications. We rely on effective communication and this is accomplished through whatever means our doctors' prefer. Whether the medium is E-mail, telephone, instant messenger, Skype or a local face to face meeting, our goal is to produce only the highest quality restorations.
Setting up specific preferences for our clients and assigning one of our valued technicians to their account is another way we can satisfy the unique needs of each client. There are no assembly line step-workers at Sunrise Dental Laboratory; each technician is able to take your restorations from start to finish. Because of our attention to detail and personal touch, it will seem like Sunrise Dental Laboratory works only for you.
All the restorations we produce are 100% guaranteed to satisfy you and your patients. Sunrise Dental Laboratory will not settle for good enough! We stand behind our work unconditionally.
John Wilson
Sunrise Dental Laboratory